Katy Koop interviews Shea Stanley, one of the writers in The Food for Thought Project, a year-long lab for aspiring audio dramatists.This is Part Four in a four part series. Read Part One with the producers here, including more about the guest speakers mentioned in this interview. Read Part Two with writer Ashley-Ruth Bernier. Read Part Three with writer Tori Grace Nichols.
---
"Sometimes my grief feels as though I've been left alone in a room with no doors. Every time I remember that my mother is dead, it feels like I'm colliding with a wall that won't give. There's no escape, just a hard surface that I keep ramming into over and over, a reminder of the immutable reality that I will never see her again."

Michelle Zauner in Crying in H Mart
---
Food is inherently emotional. The taste or smell or texture of it can take you back to a specific moment in time and bring all those emotions from that moment rushing back in. That's why, especially when we're coping with grief, food can be so important in helping you cope and sustain yourself.
For Durham-based writer, comedian, and actor ​​Shea Stanley, when she started thinking about food, comfort, and grief for the Food for Thought series, she found herself thinking about one food in particular: the hotdog. This is because, when Stanley began thinking about the prompt for the audio drama series "I thought about food and I thought about how when I experienced a loss, I went into a lot of credit card debt because I was buying all of my meals, just sort of ordering Postmates. I was studying abroad so it was even harder to make that work." For her, mapping out her audio drama series "was sort of like processing what that experience is like for me. It was kind of funny to me that I was in so much credit card debt because I was like getting a corndog delivered to my house. It's just silly."
Much like Stanley herself when she was dealing with grief, her audio drama "I'm Not Here Right Now" follows a young woman, recently out of college who "is processing her grief" from the sudden death of her mother "by fixating on what she eats and instead of cooking for herself or anything. She just goes to this shitty hotdog restaurant every day, like this college drunk food spot, which she's at all the time. So, it's about her and exploring what you eat".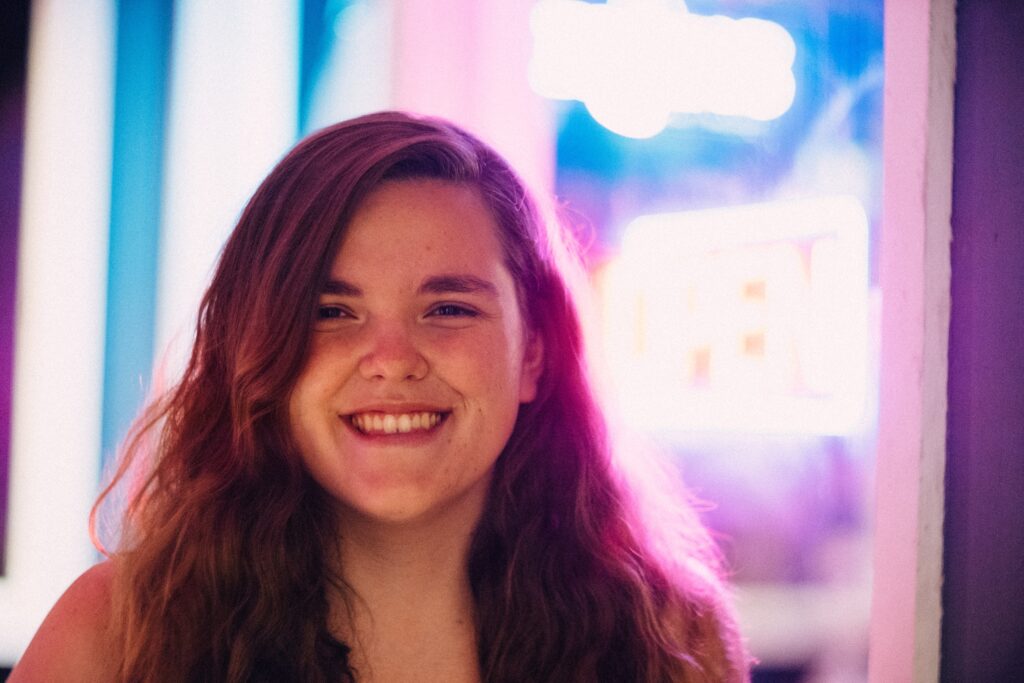 Taking her own experiences with food and talking to the other writers in the cohort, Stanley was able to develop a full story really delving on how types of food and how you feed yourself connect with grief. In particular, in being a part of the workshops with Whetstone Media media founder Stephen Satterfield, Tall Grass Food Box founder Gabrielle E.W. Carter, writer and performer Morgan Givens, and filmmaker Ashley Melzer all provided necessary insight into the writing process. As Stanley explains, "all the different speakers have been different experts on food, writing, or both. At first, I didn't know if the food speakers would actually be that helpful to me because I am writing about being so disconnected with food," but she found learning all of the different perspectives enlightening. Because "all the speakers have talked about food and community, familial connections, and how everyone has food that means something to them," Stanley was able to get deep insight into how hot dogs, "the food that is [her character's], it's driving her into credit card debt."
In addition, in creating "I'm Not Here Right Now", she found that the writing and community that the cohort afforded her, helped her reach deadlines needed for the project. In particular, Stanley focused on outlining, "I find outlining very hard but I really wanted to get it all outlined before I started writing it because I'd not really written a several episode thing before. It felt important to have that mapped out." In making sure she was able to get the work done, "I realized that what I have to do is write for 15 minutes at a time and let it be. So, I've been doing a lot of short bursts of writing." Meeting regularly and also meeting these experts, as well as having deadlines, helped her figure out what writing worked best for handling audio.
Overall, beyond the pilot, "I would love to have the whole season written and have it produced and be available for people to listen to," so that the story could be fully realized.
Stay tuned for more updates to the Food for Thought project and future audio series on the Artist Soapbox website, our patreon, and on social platforms. 
Katy Koop is a theatre artist and writer based in North Carolina. Her writing has been published on websites like Electric Literature, Hello Giggles, Indy Week, and more. Her plays have been performed virtually and in North Carolina, NYC, and Minneapolis. She most recently attended the Kennedy Center Summer Playwriting intensive as a member of the BIPOC cohort and is currently pursuing her MS in Technical Communication at NCSU. You can find her tweeting at @katykooped and more of her work at katykoop.com.
If you'd like to hear more, listen to the podcast episode: 151: Writing your first audio drama: Aspiring audio dramatists discuss the Food for Thought Project. This project is generously supported by the Mary Duke Biddle Foundation.