The second of two episodes featuring the work of Jacqueline E. Lawton: playwright, dramaturg, producer, and advocate for Access, Equity, Diversity, and Inclusion in the American Theatre.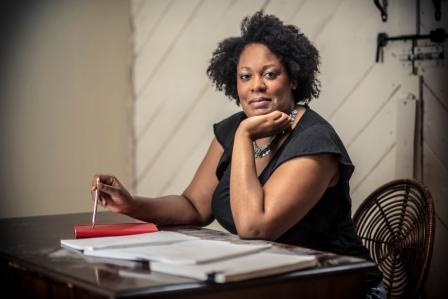 In this episode, along with dramaturg Jules Odendahl-James, you'll hear Jacqueline discuss her play ARDEO.
ARDEO is a one act play inspired by research and personal narratives of health practitioners and patients at UNC-CH's North Carolina's Jaycee Burn Center. This play explores how patients and doctors communicate with each other; how health practitioners communicate with the public; and how theatre artists can be of service to patients, doctors and the larger public.
In this conversation, Jacqueline and Jules touch on the field of narrative medicine, the particular development process of ARDEO, the value of partnering the dramatic arts and science, and opportunities to create those collaborations. Speaking of collaborations, Jules and Jacqueline discuss their work together as theatre-makers and the awesomeness of dramaturgs and dramaturgy especially for new plays in development.
Learn and read more about ARDEO, see photos, and watch the short film of the piece performed.
[This intro was recorded on June 6, 2020. The interview was recorded on May 18, 2020. Listen to Episode 126 with Jacquelyn E. Lawton, JaMeeka Holloway-Burrell, and Jules Odendahl-James]
BIOS
Jacqueline E. Lawton is a playwright, dramaturg, producer, and advocate for Access, Equity, Diversity, and Inclusion in the American Theatre. Her produced plays include: Blood-bound and Tongue-tied; The Hampton Years; Intelligence; Mad Breed; and The Wonderful Wizard of Oz. Currently, she is an Assistant Professor in the Department of Dramatic Art at the University of North Carolina-Chapel Hill and a dramaturg for PlayMakers Repertory Company. She is also Dramatist Guild's Regional Representative for North Carolina.
Jules Odendahl-James is director and dramaturg specializing in art+science collaborations, documentary performance and works by women playwrights. She's a co-founder of Durham's Bulldog Ensemble Theatre after four years as an Associate Artistic Director at Manbites Dog Theater (2014-2018). At Duke University, she is a lecturer in Theater Studies, the Program Director of Arts and Humanities Advising, a member of the Disability Access Initiative and a 2017-18 Teaching for Equity Fellow. She was a Kienle Scholar of Medical Humanities at Penn State College of Medicine (2016-18) and an affiliated faculty of Duke's Reimagining Medicine pilot program in 2018. She has taught courses in medical humanities such as Playing Doctor, Medical Stories on Stage, Performing Science, and Visual Cultures of Medicine.
This episode is brought to you by the Soapboxers, the official patrons of the Artist Soapbox. If you like these episodes and want more, get on the Soapbox! This episode was recorded online at the ASBX home studio. Artist Soapbox theme music by Bart Matthews.
CONNECT AND FOLLOW!
Artist Soapbox on social media:
Twitter =@artist_soapbox
Instagram = artistsoapboxFacebook =https://www.facebook.com/artistsoapboxpodcast/
LISTEN to our newest audio drama THE NEW COLOSSUS. The New Colossus Audio Drama is a totally unhinged dark comedy reboot of Anton Chekhov's classic play, THE SEAGULL.