The first of two episodes featuring the work of Jacqueline E. Lawton, playwright, dramaturg, producer, and advocate for Access, Equity, Diversity, and Inclusion in the American Theatre.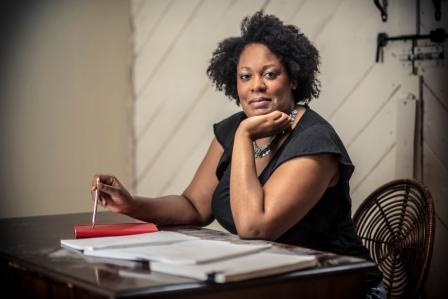 Along with director JaMeeka Holloway-Burrell and dramaturg Jules Odendahl-James, you'll hear Jacqueline E. Lawton discuss her new play XIX. XIX was commissioned by the Women's Theatre Festival in celebration and reckoning with the 100th anniversary of the 19th Amendment. XIX is a socio-political drama following a multi-racial family who find themselves in the middle of the fight for equality and divided over the right to vote. XIX received a public sharing through the UNC Process Series in February 2020; there will be a staged reading at WTF 2020 on July 11th at 7:30 pm.
The wonderful guest trio of Jacqueline, JaMeeka Holloway-Burrell and Jules Odendahl-James dig into playwriting topics such as translating a historical event into a contemporary piece, deciding what story to tell and who should be the center of the story, the development process and the roles of the director, dramaturg and playwright and much more.
[This podcast interview was recorded on May 15, 2020. The introduction was recorded on June 6, 2020.]
BIOS
Jacqueline E. Lawton is a playwright, dramaturg, producer, and advocate for Access, Equity, Diversity, and Inclusion in the American Theatre. Her produced plays include: Blood-bound and Tongue-tied; The Hampton Years; Intelligence; Mad Breed; and The Wonderful Wizard of Oz. Currently, she is an Assistant Professor in the Department of Dramatic Art at the University of North Carolina-Chapel Hill and a dramaturg for PlayMakers Repertory Company. She is also Dramatist Guild's Regional Representative for North Carolina.
JaMeeka Holloway-Burrell (she/her/hers) is a freelance director and producer. She is the Founding Artistic Director of Black Ops Theatre Company, lead curator for the Bull City Black Theatre Festival in Durham, NC, and a founding company member of Bulldog Ensemble Theatre. A 2018 Indy Arts Award winner, JaMeeka is a 2019-20 grant recipient from both the Manbites Dog Theater Fund and from the Ella Fountain Pratt Emerging Artists program. She also served as a 2019 theatre panelist for the National Endowment for the Arts and for the North Carolina Arts Council. An alumnus of The Lark Play Development Center Apprenticeship program, JaMeeka has been an Assistant Director with The Oregon Shakespeare Festival and Playmakers Repertory, and more recently, an Associate Director with Duke Performances at Duke University. Her directing work has appeared at Northern Stage in Vermont, Shakespeare in Detroit, Classic Stage in NYC, Manbites Dog Theatre in Durham, The Department of Theatre at Dartmouth College, Duke University's Department of Theatre Studies, and the National Black Theatre Festival. www.jhbdirectedit.com
Jules Odendahl-James is an artist/scholar who has been making theater in the Triangle for two decades. For the COVID-19 interrupted season of 2019-2020, she directed As You LIke It for Duke University and served as dramaturg for the resulting Zoom reading/recording of Fefu and Her Friends at Duke University and as dramaturg for the upcoming world premiere of Edges of Time (PRC2) by Jacqueline Lawton. Recent credits include In a Word by Lauren Yee (Director, Bulldog Ensemble Theater), Men on Boats by Jaclyn Backhaus (Director, Justice Theatre Project). She is a founding member of the Bulldog Theatre Ensemble after serving as an Associate Artistic Director at Manbites Dog from 2014-2018; an Associate Member of SDC, and a member of the Literary Managers and Dramaturgs of the Americas (LMDA). Her new play dramaturgy work with Jacqueline Lawton spans five years and over 10 plays. In addition to Edges of Time and XIX, a commission for the Women's Theater Festival, about black suffragettes in North Carolina, their collaborations include Behold! A Negress; So Goes We; Freedom Hill; Come Dawn; Trinity; Blackbirds; Among These Wild Things; ARDEO; and The Hampton Years.
Additional Resources:
ASBX Episodes:
This episode is brought to you by the Soapboxers, the official patrons of the Artist Soapbox. If you like these episodes and want more, get on the Soapbox! This episode was recorded online at the ASBX home studio. Artist Soapbox theme music by Bart Matthews.
CONNECT AND FOLLOW!
Artist Soapbox on social media:
Twitter =@artist_soapbox
Instagram = artistsoapboxFacebook =https://www.facebook.com/artistsoapboxpodcast/
LISTEN to our newest audio drama THE NEW COLOSSUS. The New Colossus Audio Drama is a totally unhinged dark comedy reboot of Anton Chekhov's classic play, THE SEAGULL.