"Communities seeking healthcare and environmental justice always have the best answers for how to transform their own conditions." The second of two episodes with Dr. Marie Garlock discussing the role of performance and storytelling in health and environmental justice movements. In this episode we discuss the Lillies Project, an environmental justice project in Stokes County, NC, United States and the Burns, Human Rights and Capabilities Project in Malawi, Africa. All three of these projects fall under the umbrella of health justice and performative story collaborations, and they all include a number of partners and contributors, which is a staple of Marie's work.
At the conclusion of this conversation, I asked Marie for tips to share with artists who'd like to do this kind of work, but don't know where to start and Marie answered that question with the same grace, humor, and compassion that you'll hear throughout our conversation.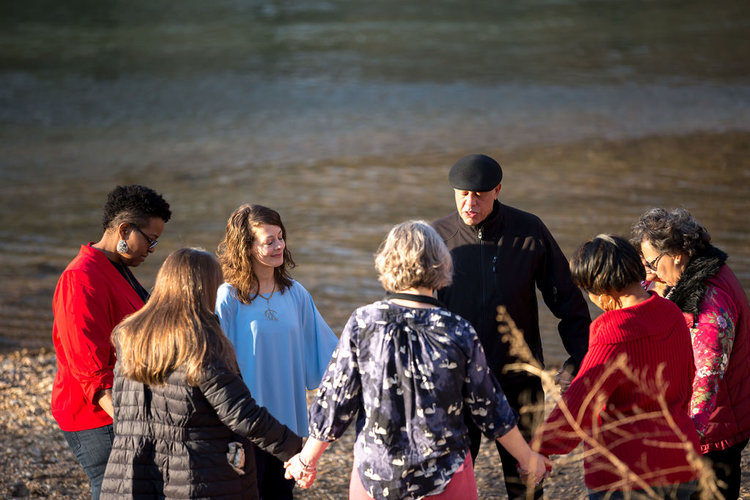 If you haven't already, then I encourage you to go back and listen to the previous episode #91 in which we talk about what health justice means more broadly and about the first of three projects that she's working on titled FLIPPING CANCER focused on people who face advanced cancers as patients, caregivers, + healthcare providers.
Content Warning: A reminder that this can be challenging content. We touch on rampant injustice and inequities, life-threatening illnesses, racism and other traumas. Listen when you feel able.
bio
Marie Garlock, PhD leads health, performance, collaborative research, and community-building initiatives that span the U.S. South and Global South. Marie is the director of It Is In You projects and is based in Durham, NC. It Is In You partners with people and organizations drawn together by the power of stories to promote health justice including clinicians, artists, scientists, educators, policymakers, faith and advocacy leaders across diverse communities, institutions, and coalitions. For over a decade now, Marie Garlock has been creating performances based on collaborative, community-embedded research. She works with learners and luminaries of all demographics to facilitate workshops, organize festivals, and offer tailored programs in creative communication and health equity across the U.S. and internationally.
Mentioned: 091: The power of story to promote health justice. Flipping Cancer with Dr. Marie Garlock. [Episode 1 of 2]
This episode is brought to you by the Soapboxers, the official patrons of the Artist Soapbox. If you like these episodes and want more, get on the Soapbox! This episode was recorded at the ASBX home studio. Artist Soapbox theme music by Bart Matthews.
Connect and Follow!
Artist Soapbox on social media:
Twitter =@artist_soapbox
Instagram = artistsoapbox
Facebook =https://www.facebook.com/artistsoapboxpodcast/
QUESTIONS FOR MARIE
PROJECTS
Let's talk about two more of the projects you are working on:
The Lillies Project in Stokes County, NC
Burns, Human Rights & Capabilities in Malawi
[What is this project? As an artist, how do you work with the participants?]
YOUR THOUGHTS
As an artist, what 'does it take' to work in this way with people? There are artists who consider themselves solely entertainers, but might be interested in supporting your work or dipping their toes into social justice work — what would you suggest for them?
Artist Soapbox podcast is a listener supported podcast. If you listen, please support the podcast by sharing episodes with friends and contributing via our Patreon campaign.
If you have feedback, questions, suggestions, please email artistsoapbox@gmail.com. FEEDBACK IS EVERYTHING TO ASBX.
Quotes from Marie:
"Ritual–as time, space, and intention set aside–gives breath to memory and ignites imagination among people who deal with loss, trauma, and crises worsened or imposed by health injustices."
"Adapted ritual and interactive, devised performance—woven with story/poetry, dance/movement, and musical/visual symbols—affords witness and opportunities for mutual respect within what I've come to call the sacred space of suffering. Perhaps even more importantly, these art forms center the creative strength and visionary change-making that arises when affected communities tend to the deep roots of their own dignity and self-worth."
"Communities seeking healthcare and environmental justice always have the best answers for how to transform their own conditions. Performance that seeks to honor these wisdoms can bring them alive for new and different audiences, able to act in multidisciplinary ways on knowledges they now connect to much more intimately."
"Along the way, mentors, communities of artists, scientists, historians, advocates, and listeners have guided me to 3 main styles of performance for health justice: (1) story and theater shaped by oral history adaptations from interviews and InterPlay performance research workshops, (2) ritual installation that is site responsive and part of mass movements/public action or community development and restorative justice programs, (3) bodily being and dance choreography co-made with people facing cancer, environmental health harms, and injury in U.S. South and Global South communities."