Mythology, music, geography, spirituality, North Carolina, and the creative process with Kamara Thomas! An episode rich with questions and contemplation, and the first Durham 150 Artist Spotlight interview. Enjoy!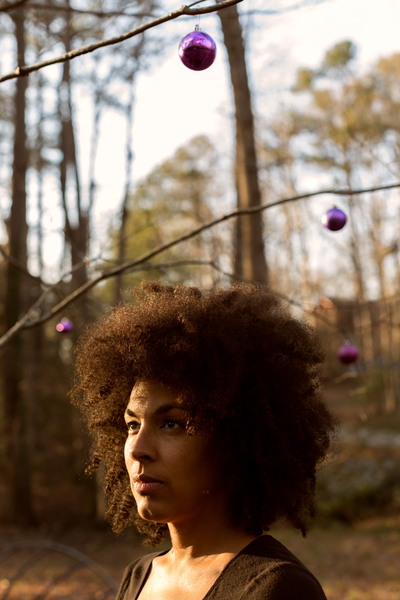 Kamara Thomas is a singer, songspeller, and multi-disciplinary storyteller based in Durham, NC. Kamara was named one of the "14 Artists Proving Black Americana is Real" by Paste Magazine. She is currently working on "Country Soul Songbook," a musical documentary project exploring race and place in Country music. Kamara's video "Good Luck America," from her forthcoming album and storytelling work "Tularosa: An American Dreamtime," was featured at the 2019 Hayti Heritage Film Festival. She wrote and produced SOAPBOX, a traveling public space performance commissioned for Downtown Durham Inc.'s Public Space Grant.
The intro and outro to this episode is Good Luck America, the first track from Kamara Thomas' upcoming album TULAROSA: AN AMERICAN DREAMTIME.
2019 is a year-long celebration honoring Durham North Carolina's 150th anniversary. Artist Soapbox received a grant from Durham 150 in Support of the City of Durham's Sesquicentennial Commemoration. This episode is one of three Durham 150 Artist Spotlights in which I interview a few of the many brilliant artists living in here. Happy Birthday, Durham! Thank you Durham artists. Thank you for the grant, Durham 150. Listeners, support local artists and help them and your community thrive!
This episode is brought to you by the Soapboxers, the official patrons of the Artist Soapbox. If you like these episodes and want more, get on the Soapbox! This episode was recorded at Shadowbox Studio. Artist Soapbox theme music by Bart Matthews. Additional audio editing by Merrybelle Park Productions.
Connect and Follow!
Artist Soapbox on social media:
Twitter =@artist_soapbox
Instagram = artistsoapbox
Facebook =https://www.facebook.com/artistsoapboxpodcast/
QUESTIONS FOR KAMARA
BACKGROUND
How did you find music as a calling (or how did it find you)? What about your musical taste — what music do you like to create? Is that different than the music you've played with others? Is it different than the music you listen to?
You identify yourself as "a singer, songspeller, storyteller, multi-disciplinary artist and mythology fanatic" — we'll talk about some of those more specifically — but what is it like to have an artistic identity that encompasses that breadth of language? How do you accommodate all of those interests and how do they work together/feed your work?
Songspeller — what does this mean? What is a songspell?
TULAROSA: AN AMERICAN DREAMTIME
Congratulations on your upcoming release of TULAROSA: AN AMERICAN DREAMTIME. Would you tell us about this project?
Why is the Wild West so interesting to you? Why do you think it still captures the public imagination? Does this type into your interest in the mythology of America?
TULAROSA engages 12 American archetypes — real and imaginary characters — who travel thru this American landscape and time. Would you give us an example of a few of these archetypes?
TULAROSA is a discrete album that will stand on its own. And you are also building it out to to include multi-disciplinary public performances and community workshops. What was the motivation to share this in a multi-disciplinary way? What are you hoping to do?
Your interest in Tularosa began in 2005, you moved here in 2013 from NYC, so you've been carrying this interest with you across the years and across the country….
How has your engagement with that source material changed over time? Have your questions changed? How has the project evolved over time? What are the questions you are asking with this album?
I'm curious about the geography and the idea of 'place'. Tularosa is in New Mexico. You began your interest when you were in NYC, and you're completing this work in Durham, NC. Has your 'home place' affected or informed your work on TULAROSA? How do you key into a geographic location so far away — or are you keying into something beyond a physical place (perhaps an emotion or theme)?
What would you like listeners to take away from this?
Quotes from Kamara
First and foremost, I'm a singer. That's how I connect to the Universe.
Songspelling is where the mystical parts come in.
Tularosa started to symbolize the American dilemma for me of these varying cultures and interests fighting over something seemingly inhospitable to humans.
Tularosa seemed like the landscape where there was a bigger American story playing out.
There's a really deep mythology underlying everything we believe ourselves to be as Americans, and we're all subject to it.
Artist Soapbox podcast is a listener supported podcast. If you listen, please support the podcast by sharing episodes with friends and contributing via our Patreon campaign.If you have feedback, questions, suggestions, please email artistsoapbox@gmail.com. FEEDBACK IS EVERYTHING TO ASBX.