Aby Rao (Writer, Director and Producer) is an Asian-American filmmaker based in Morrisville, NC. We discuss the making of his film Parallel Parking, and dig into Aby's unconventional process for working with actors and developing scripts. Aby outlines his goals as a filmmaker and why telling realistic stories of immigrants is important to him. I was inspired by Aby's ability to work within the boundaries of his time and resources, while also working outside of his comfort zone.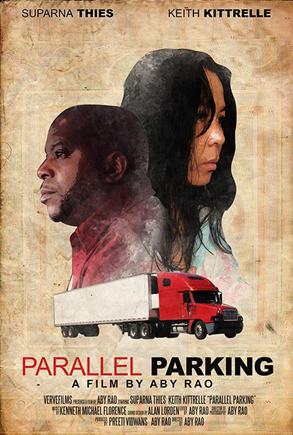 Aby Rao's films have been screened at Cucalorus Film Festival, Carrboro Film Festival, Seattle South Asian Film Festival, NC Film and Video Film Festival, and more.
He released his first feature film, "Parallel Parking" in Fall 2018 for which he received a Filmed In NC grant. His script for "Parallel Parking," made it to the second round of the 2014 Sundance Screenwriters Lab.

This episode is brought to you by the Soapboxers, the official patrons of the Artist Soapbox. If you like these episodes and want more, get on the Soapbox! This episode was recorded at the ASBX home studio. Artist Soapbox theme music by Bart Matthews. Additional audio editing by Merrybelle Park Productions.

ASK THE SOAPBOX: Submit your question and get it answered on the Soapbox. Listeners are invited to submit anonymous questions to the podcast whether creative, personal, professional, or artistic. It's like a quick version of Dear Abby, Dear Sugar, Ask Polly meets the Soapbox.

Connect and Follow!

Artist Soapbox on social media:
Twitter =@artist_soapbox
Instagram = artistsoapbox
Facebook =https://www.facebook.com/artistsoapboxpodcast/
Questions for Aby:

BACKGROUND
When did you begin your relationship to filmmaking? Was there a moment when you thought — this is for me!?
Why is this medium so captivating for you?

Why/When did you move to NC? How is it making work here?

You've directed several short films prior to your first feature film, Parallel Parking. What did you learn from the shorts that made you feel ready to tackle a feature? Is that the path that you'd recommend for filmmakers? What about the short film Dechen — was that a helpful springboard to making Parallel Parking?

PARALLEL PARKING: PROCESS
Would you give us a synopsis of the film?
This not your first film about immigrants (and it doesn't sound like your last) — why is this topic important to you?
What inspired the story of the characters in Parallel Parking? (It's fiction, but was it inspired by observations, other stories you've heard, the news, etc.?)
You've written that "I would like this film to offer more than sheer entertainment" — obviously commercial success would be a wonderful outcome for this film, but what else are you hoping for from this film? How are you interacting with social justice and community organizations?
In 76 mins, PP covers so many challenges that Dechen has to face as a refugee — would you talk about some of those and how you approached them as a script-writer/director?

PARALLEL PARKING: LOGISTICS
You have a full time job and I'm assuming that most of your cast and crew have other fulltime obligations. How did you approach the logistics of making PP?

What was your biggest challenge?
What are you most proud of? What is your greatest success with this film so far?

WHAT'S NEXT
How can people see this film? What's next for Parallel Parking?
What's next for you?

Anything else?
Quotes:
I think there are plenty of stories out there that we need to tell. This is my way of giving back to the community and telling more working class, hard working, realistic stories that are missing from the mainstream media.
When people come and shake my hand or give me a hug and say "That one scene you showed touched my heart…." That's the biggest reward to me.